MEM Robotics participate in Pest World 2016 in Seattle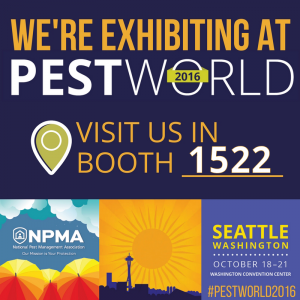 Make Em Move Robotics, an exclusive distributor of Bird Control Robots and Mosquito Control Robots of SMP Robotics will take part in the main event of the year in pest control industry – Pest World 2016 trade show in Seattle, WA on October 18-21, 2016.
MEM Robotics will show world's only multifunctional outdoor robots for pest control industry. These unique inventions combine autonomous platform of SMP Robotics with a state-of-the art pest control equipment: lasers, hazers and mosquito traps.
A laser installed on a robot imitates approach of a small animal to birds scaring the birds. Hazers generate an invisible haze which safe for humans but effectively deter birds. Mosquito traps attract mosquitos by influencing to all their senses. Robots significantly increase a coverage of such devices making them really extremely effective solutions to deter pest birds and mosquitoes.
Such solution are perfect for farms, orchards, resorts, golf courses, country clubs, factories, plants and airports – everywhere where pest birds and mosquitoes become a problem. This is a real breakthrough for the pest control industry.
So, come and visit the booth of Make Em Move Robotics (booth 1522) at the Pest World 2016 in Seattle on October 18-22!