Private security industry is now quickly moving to adoption and utilization of advanced autonomous security patrolling robots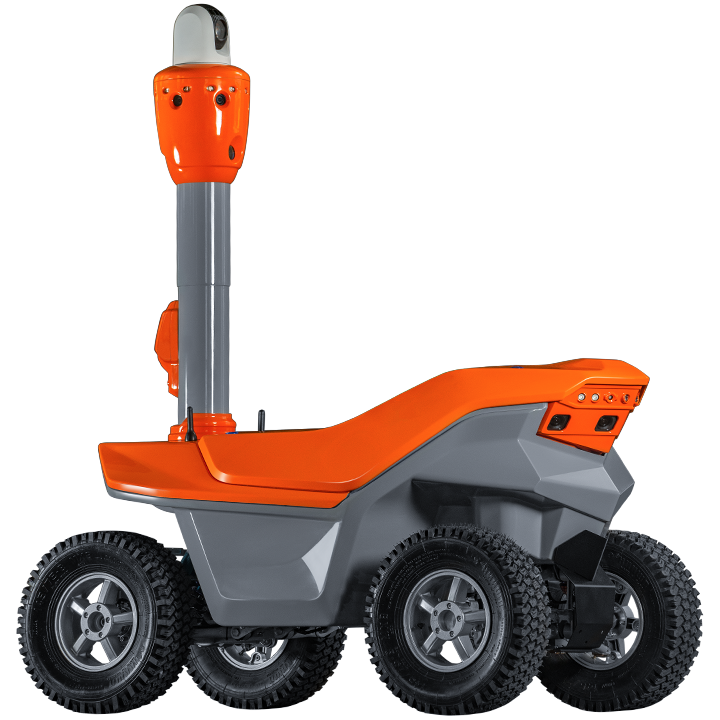 Undisputedly, there is no better long-term solution than security robots. They are now ensuring the safety of citizens, protecting public spaces, industrial facilities and corporate assets during the current CV-19 pandemic. Patrolling guards cannot and should not be exposed near any contaminated environments when there is a safe and logical solution by utilizing fully autonomous offered by SMP Robotics. These security robots can operate and perform the surveillance and enforcement without risk of life or exposure.
The great news is that the overall cost of operating the robot is significantly less than the average salary of a security guard providing round-the-clock patrolling.
The time has come for the widespread use of robots by Private Security service companies as well as corporate security divisions
New models of security robots developed by SMP Robotics are able to completely replace patrolling guards. Robots are constantly monitoring the designated area and instantly detect any intruders or trespassers. They work in an independent automation mode where assistance by a security robot technician is necessary only during exceptionally alarming situations.
As the market for robotic security evolves to new levels and demand, the complexity of robotics functional advancements will steadily grow, while the cost of their operation will decrease. The market demands of incorporating robots into corporate patrolling will experience steady growth, therefore, creating sustainable business conditions for profitable gains in the near future.
The timing for a security service providers (PPO) or corporate security strategists to reduce risk and increase bottom line profit is now
The fundamental difference in the operating cost of the robot per hour and the average salary of the guard sets a security company with business opportunities to operate with higher margins and profits. The financial gains would be noticeable even servicing the insignificant quantity of designated areas or territories. In circumstances, when a (PPO) Private Security company services a substantial number of clients, the profitability grows exponentially as a result of lower robot maintenance costs and overhead. The integration of security robots gives a competitive advantage to a robot operator offering more services with hardly any staff required. At the time of business expansion, the security service provider will have no need to hire additional personnel in a larger quantity avoiding conditions where quality control takes more effort to monitor.
Low wages under preforming employees are the weakest link in any business model
Robots replace the lowest-paid unreliable personnel. The high numbers of these types of personnel is always significant. By incorporating robots into a business model, a security company removes unnecessary overhead associated with low wage employees. At the same time, the quality of the services provided will only increase due to the high reliability and functionality of the robots.
The (AI) Artificial Intelligence approach in public safety, security, and protection is made simple by advanced autonomous security robots
The use of robots has a significant psychological effect both for people performing their duties and for the general public. The presence of robots at the guarded facility allows a security service provider to bring the overall patrolling to higher standards and to monitor the guards by security officers efficiently.
Robots create safe jobs and don't place personnel at risk
It is widely known that guards and security officers become the most affected professions after healthcare workers in any type of pandemic. Nonetheless, the psychological impact experienced by the personnel located in the contaminated zones is enormous. This creates immense pressure for any employee and employer for obvious reasons. The use of security robots is the solution for creating safe remote jobs. A security officer's controlling a group of patrol robots in a safe and distanced working environment does not expose himself to the risk of infection and will not infect others as well.
Regrettably, the new reality of our life is that pandemics have become a part of it. The size of the world population, the lifestyle, and crowding in megacities all create perfect conditions for viral epidemics and pandemics to become inevitable.
Robots are the only way to ensure safety, protection, security and the rule of law in public areas, ranging from college campuses and gated communities to city parks and industrial facilities. The utilization of robots will save the lives and health of many thousands of people.
The realized and unrealized obstacles for robotization of security services companies
As in any new business, there are obstacles that would require efforts to introduce new solutions to established markets and business models. The only roadblocks for a security service company with a desire to employ robots are the robots themselves. As a rule, security service companies do not have the dominant technical competence necessary for the use of complex technical systems. Although they have vast experience in servicing corporate clients for profit integrating robots are a very important piece of the puzzle. All other obstacles are more psychological than real. SMP Robotics has been observing robots deployed by security service companies for several years. Summarizing the successful experience, the following can be noted:
Technological competence was achieved by collaboration and partnership of technical specialists and training to security organizations by SMP Robotics engineers. Continuous and operational technical support of SMP in combination with remote diagnostics of working robots allows local technicians to start providing continuous deployment of robots within a week. The issue of acquiring robots within the USA is facilitated by well-established interaction with leasing companies and attractive monthly payments offered to them.
Reiterating on what's being covered in this article, everyone should clearly understand the realities of the future has arrived. Companies don't adopt will miss a business opportunity or fail to employ security robots will lose a substantial part of their security services market share.